Really cheap deal on Robinson Crusoe Island. You get an overnight stay (in a really nice bure), 2 full days on the island + Sunset, Dinner & Dance Show and all meals!
Why go on this trip…
Two full days on Robinson Crusoe Island
1 night in your own lovely Fijian Bure Levu with king bed and your own separate private bathroom
Enjoy a 40 min calm water river and lagoon sunset cruise to Robinson Crusoe Island
See the exciting South Pacific dance show with great dancers & music
Watch the boys juggle fire sticks and knives, they make it look so easy, it's awesome
The lady dancers sure know how to move those hips
Traditional lovo buffet dinner with lots of variety
Incls tea & coffee in room, toiletries & towels
Includes all meals (1 breakfast, 2 lunch & 1 dinner)
Activities throughout the day
Swim, snorkel, kayak, bush walk & more
Soft white sand
Full bar with great cocktails
The Facts…
Departs Monday, Wednesday & Saturday ONLY
Transfers from your hotel in Nadi, Denarau and Coral Coast as far as Warwick are included
Pick up is around 7.30am and drop back around 6pm the next day
Snorkelling gear included
At Extra Cost: Drinks available from the Wreck Bar, Beach Massage & Fishing.
Credit card accepted for diving & spa treatments
Don't forget the suntan lotion, it's a must out there
Prices are valid from 1 Apr 2017 to 31 March 2018
Package deal for 2 adults
Book your 2 days, 1 night Robinson Crusoe Island | Fire & Dance Show | All Meals here now…

Facilities
Shaded Hammocks
Snorkeling
We are sorry, there are no reviews yet for this accommodation.
Robinson Crusoe Island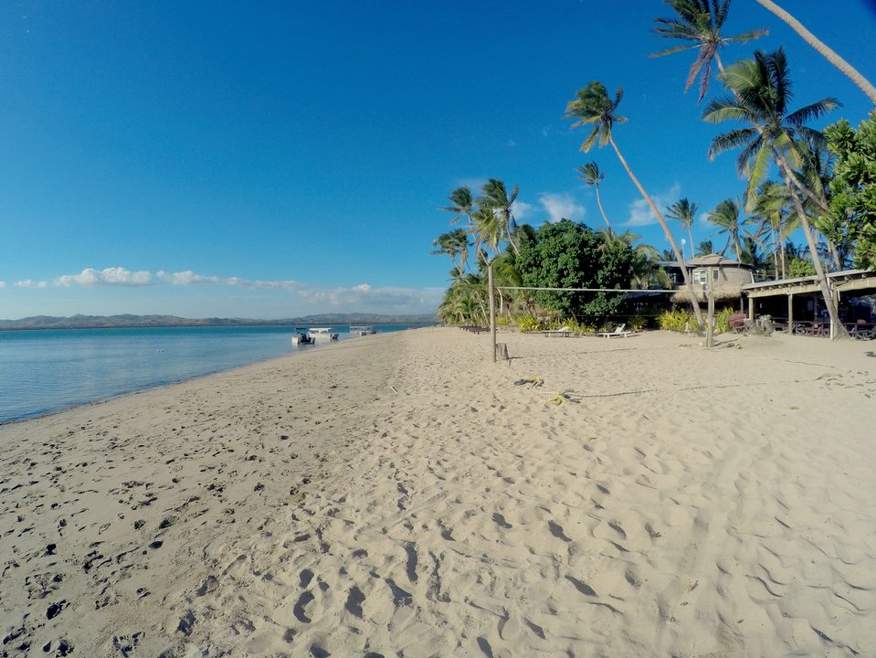 Robinson Crusoe Island, a Tropical Island Treat, offering a truly unique Cultural Experience. Robinson Crusoe Island is world famous for it's spectacular Island Dance Shows with some of Fiji's best Fire and Knife dancers. Feel the rhythm, experience the customs, culture & cuisine of the Fiji Islands. Robinson Crusoe Island's Day, Night and Combo Cruises
---
Read more
Booking
Book your 2 days, 1 night Robinson Crusoe Island | Fire & Dance Show | All Meals here now...

How your booking works...
No Booking Fees or Credit Card Fees on your order with us
Secure payment page, look for the green padlock in your browser bar
No "Fiji time" here, we're on the computer all day everyday making sure bookings are processed really fast
We're based right here in Nadi, Fiji
We only take a small deposit now (approx 10% to 15%) and you'll need to pay the Balance Due on arrival at the Robinson Crusoe check in desk on the island.
If you pay the balance in cash you will avoid the extra 3% credit card charges at check in.
Payment will be taken in Fijian Dollars only. Any refunds will be paid in FJD. The payment amount may be different due to currency fluctuations.
Last minute booking for next day, please book no later than 2pm the day before.
As soon as you book we'll send you an "Order Pending" email to say we have received this. We then book your tour (as fast as humanly possible), and send you a second "Order Confirmed" email with all the important details of your trip. No need to print this voucher but you must be able to tell the check in staff your Booking Reference number.
Your credit card is stored in our booking systems secure vault and will automatically be deleted 30 days after your trip. We do not have access to your credit card numbers.
All prices include 25% Fiji Government taxes & levies (9% VAT + 10% Sales Turnover Tax + 6% Environmental Levy)
Free Cancellation & 100% Refund…
You may cancel free of charge PLUS we'll give you 100% refund of any payment made up until 48 hours before your booking date. If you cancel within 48 hours before departure or you are a no-show, full payment is required, we will automatically take this from your credit card.
If HotFiji.deals is unable to confirm your booking, we will refund 100% of any payment made.
If Robinson Crusoe cancels due to bad weather, they will move the departure date, however if on that day you are unable to do the tour, we will refund 100% of your payment.
How to Cancel...
For all cancellations please contact HotFiji.deals on ph: 777 6666 or email info@hotfiji.deals. We highly recommend you have travel insurance to cover any possible cancellation costs.