A perfect family getaway, even for those on a budget, Crow's Nest Resort is situated metres away from the beach and offers sweeping sea views as well as private balconies overlooking the Pacific Ocean fringed with Coral Reef.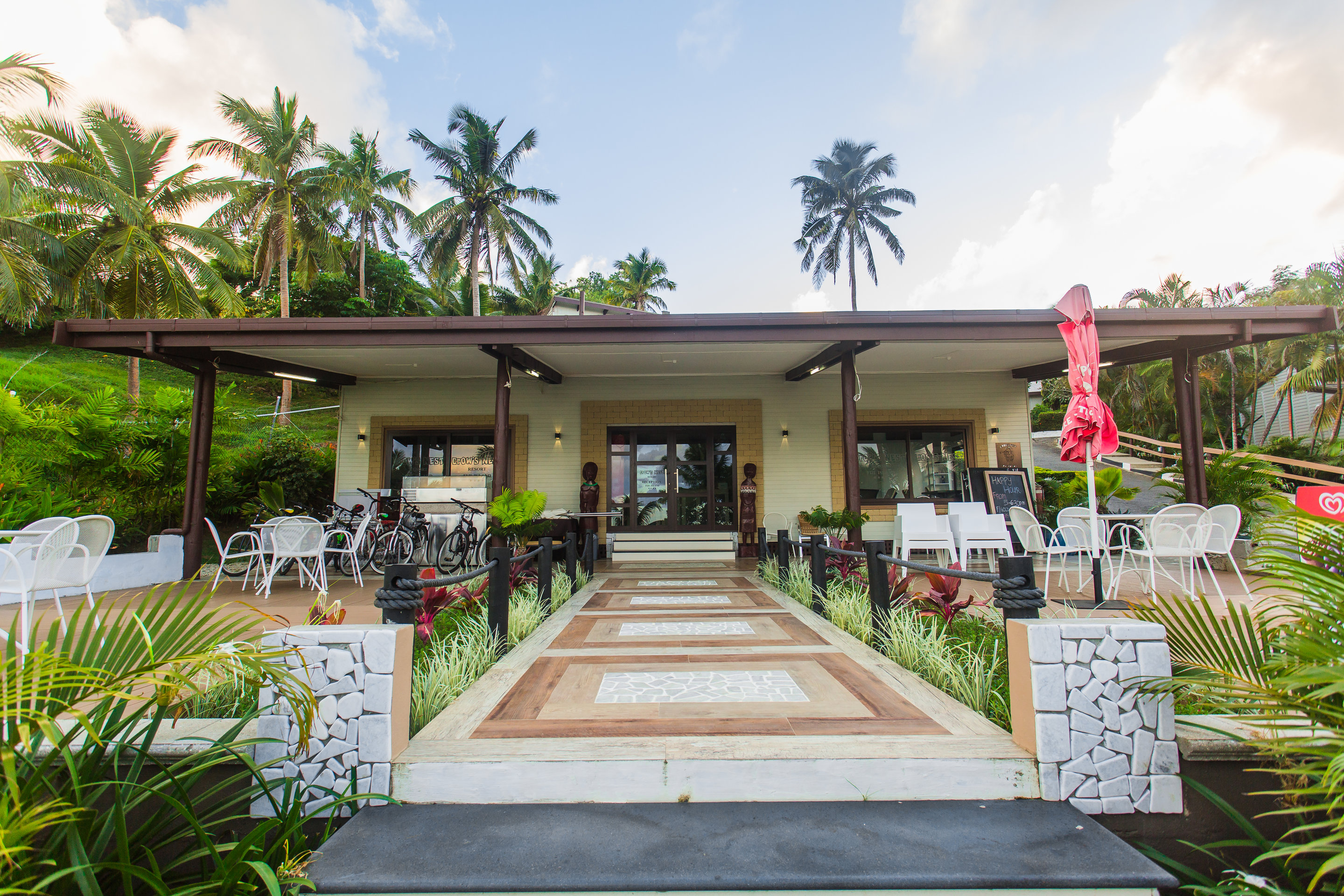 75 minutes from Nadi International Airport, this intimate resort has been extensively refurbished yet maintains its nautical origins.  The resort was originally built as a romantic rendezvous between the late Paddy Doyle – one of Fiji's tourism personalities – and his girlfriend (later his wife) Julie.  Situated metres away from the beautiful beach, the resort offers sweeping sea views all around.  Your private balcony looks out to the blue oceans and coral reefs.  The resort has spacious villas named and decorated in tribute to the ships that shaped Fiji's history.  The resort offers three types of accommodation – Executive Ocean View Villas and Deluxe Self contained villa and Luxurious Premium Villas with modern amenities and magnificent views. All of this, without breaking your budget.
The seagoing themes extend to the poolside restaurant, a binnacle and brass-bedecked museum of blue water relics from Fiji's old whalers and sailors.
Embark on a culinary journey around the Pacific, where sumptuous cuisine is the perfect prelude to romance.  The restaurant serves high quality food at affordable prices, including local and international cuisine that includes seafood as well as good old-fashioned roasts.
The Crow's Nest offers a wide range of activities from snorkelling, kayaking, horse-riding, reef walks, scuba diving, day trips (cruises and day tours – including island visits, waterfalls, river safari, etc).
Cafe with affordable breakfast and lunch available right next to the pool
Plenty of pool side lounge chairs, as the resort is smaller you're not fighting for a chair
Free breakfast
Free internet (Wifi Reception Area)
TV
Outdoor balcony Seating
Tea & Coffee Making Facility
Hair Dryer
Mini Bar
Lounge Area
Fully air conditioned
Book your Crow's Nest Resort accommodation here now…
Check-in time
1300
Check-out time
1000
Facilities
24 Hour Security
Air Conditioning
Cafe
Ceiling Fans
Coffee Maker
Cook Top
Deck/Balcony
Electric Kettle
Free Internet
Fridge
Kayaking
Kitchen
Kitchenware
Safe
Snorkeling
Swimming Pool
Telephone
Television
TV SKY PACIFIC
WiFi Internet Access
We are sorry, there are no reviews yet for this accommodation.
Coral Coast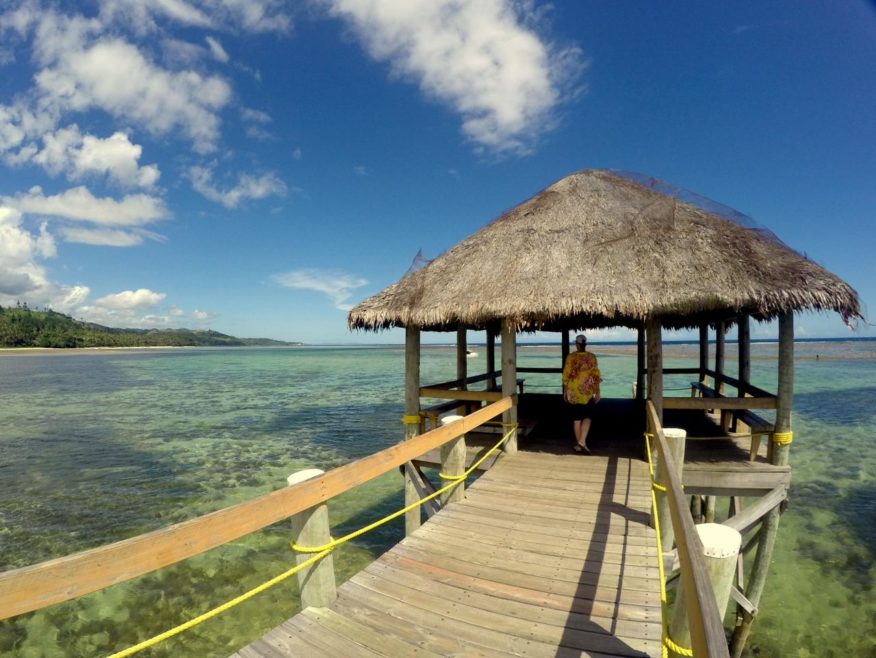 The Coral Coast is an 80km (50 mile) stretch of beaches and bays along the Queens Road between Nadi and Suva. A wide bank of coral offshore gives this stretch of coast between Korotogo and Pacific Harbour its name. Flanked by waves of richly vegetated hills and a fringing reef that drops off dramatically into the
Sports & nature
Sigatoka Valley
Whether by tour bus or on your own adventure, head inland along the west bank of the Sigatoka river. Either side of the road are the patchwork of flat green fields growing the crops that give the Valley its nickname: "Fiji's Salad Bowl." Along the way are the villages of Lawai and Nakbuta, who welcome guests and offer handicrafts and pottery for sale. The drive past Nakbuta is not for those who suffer from vertigo, as the road climbs steeply along a narrow ridge, but the reward is a panoramic view across the winding Sigatoka Valley with its quilt-like fields to the right. The road then winds to the valley floor and Sigatoka Agricultural Research Station, a popular spot for picnic lunches. From here, the roads get rough and are strictly for the four wheel drives, but even for those who turn back, this trip is a once in a lifetime glimpse at the real Fiji. Sigatoka Sand Dunes National Park. The Sigatoka Sand Dunes National Park is located at the mouth of the Sigatoka River. The extensive dune system extends for several miles along the coast with dunes reaching heights of 60m (200ft). Fiji's first National Park, this is also an archaeological site where pottery some 3000 years old has been uncovered by the shifting sands, alongside stone tools and human remains. The curious should drop into the Visitor's centre to learn more about this unique natural location.
Kula Eco Park
Just off the Queen's Road opposite the Outrigger on the Lagoon Fiji, Kula Eco Park is Fiji's only wildlife park. The park is a cool green forest nestled in a small valley. The trees have names like Dawa, Ivi, Vutu and Vesi and tower above the valley floor filtering the sun. Visitors will hear the call of barking pigeons, the shrill of honey eaters and the constant, pulsing concert of unseen forest dwellers. This is the wild side of Fiji So far, the Park's efforts at sustainable ecotourism have been successful. They have recently been involved in the captive breeding of Fiji's peregrine falcon and crested iguana. In addition, the education program for school children has seen the "graduation" of over a thousand members. Established in the late 80s and purchased by Kula Eco Park Management 1997, today the park is the an environmental showcase of the South Pacific.
Culture and history info
History Korolevu, on the Coral Coast, is the birthplace of Fiji tourism. A brilliant stretch of white beach dotted by copious lush vegetation, popular back-packers, hotels and resorts still line its beautiful shore. The place that started it all is the Korolevu Beach Hotel. Built in the 1950s by pioneer hotelier Bill Clarke on 76 acres of prime real estate, it was an immediate hit with the colonial expatriates of Australia, New Zealand and the United Kingdom. Korolevu is believed to be the first place where individual bungalow-style units were called "bures." Clarke was also the pioneer of cultural shows to educate guests about the local lifestyle. Long since closed, the Beach hotel's legacy is a still-thriving tourist industry as guests continue to arrive, drawn by Fiji's natural beauty and Fijian's natural hospitality.
---
Read more
Booking
Book your Budget Oasis Palms accommodation here now…
Payment details...
We only take a small deposit now and you pay the balance on arrival at The Terraces Apartment Check In desk
No Booking Fees or Credit Card Fees on your order with us
If you pay the balance in cash you will avoid the extra credit card charges
Payment is secure
No "Fiji time" here, we're on the computer all day everyday making sure bookings are processed really fast
As soon as you book we'll send you an "Order Pending" email to say we have received this. We then book your trip (as fast as humanly possible) then send you a second "Order Confirmed" email with all the important details of your trip, pick up times, booking reference number etc.  You'll need to print the second email out and bring it with you.
We're based right here in Nadi, Fiji
The Facts
Check-in: 1:00 p.m and Check-out: 10:00 a.m.
Prices include all Taxes
Daily room service
Prices are per room and NOT per person, great value
Prices valid from 1 Jan 2016 to 31 March 2017 including all taxes
Honeymoon Bonus
Minimum 3 Nights stay
Receive a bottle of Champagne & Tropical fruit basket on arrival.
Child Policy
Executive & Deluxe: 2 Children under 12 years (Share adults accommodation free).
Maximum Occupancy
Executive & Deluxe: 4 Adults or 2 Adults & 2 Children; Luxurious Premium: 2 Adults
Bedding Configuration
Executive & Deluxe: 1 x Double Bed plus 2 x Single Beds OR 1 x Double Bed plus 1 x Single
Luxurious Premium: 1 x Double Bed plus 1 x Sofa Bed
Cancellation or No-Shows
If cancellation is made 10 days prior to arrival – No cancellation fees apply.
If cancellation is made within 10 days from arrival – 50% of total calculated accommodation
charges as booked will be charged.
NO SHOW will be charged 100% of total calculated accommodation charges as booked will be
charged.
GO SHOWS – in case of early checkout or unused nights are non-refundable
All cancellations are required in writing otherwise all charges will be automatically processed
Check In / Check Out policy
Check in is from 1300hrs of the day of arrival and check out is 1000hrs on the day of
departure. In order to guarantee immediate occupancy of a room prior to check in time, pre-
registration is strongly recommended. This is equivalent to 1 night's accommodation.
Late Check Outs
Late check outs are confirmed on availability basis and a fee of F$10.00 VIP per room per hour
will be charged up to 1800hrs. After 1800hrs, full room rate will apply. This is payable direct
at the resort. No meals are included for early check ins or late check outs.