Navotua – Malakati – Naisisili Village Homestays are located in a remote, unspoilt and breathtakingly beautiful environment in the Yasawa Islands, Fiji
How to get to Navotua, Malakati or Naisisili village
The Navotua – Malakati – Naisisili villages are located in a remote, unspoilt and breathtakingly beautiful environment.
To get here, please first board Yasawa Flyer ferry from Denarau Marina in Nadi, which leaves every day at 8.30 AM only. There is only one trip per day. You will need a ticket to Blue Lagoon Resort, but please tell the ferry crew that you are going to the village. Going back from Blue Lagoon Resort to Denarau, the same ferry arrives back to Denarau daily around 5-6 PM. If these times do not connect well with your international flight or other plans, please look into Turtle Airways seaplane offers.Yasawa Flyer Booking page: https://www.hotfiji.deals/tours/yasawa-flyer-island-boat-transfers/
Turtle Airways Booking Page: https://www.hotfiji.deals/turtle-airways-sea-plane-island-transfers/
After a scenic 4-hour ride along the beautiful Yasawa archipelago, you will receive a call to hop off the ferry, usually near Blue Lagoon, and hop on a small fibreglass boat. The boat will then take you straight to Navotua, Malakati or Naisisili village. Your drop off takes place in a similar way. If the ferry never reaches Blue Lagoon stop due to bad weather, an extra transfer fee applies.
Homestay
Traditional Bure or if these are full then a modern village house which will generally be bigger and lighter than the traditional Bures.
Three ample island-style meals plus afternoon tea and pancakes are served daily and are all included in the price. We drink clean rainwater in the village, but it might not be a bad idea to use bottled water if you have a sensitive tummy. Bottled water is usually available in the village store.
Village Rules
Standard Fijian village etiquette applies in Navotua too. Visitors are advised to present Sevusevu (a kava root) to the chief upon arrival. You can get a kava root at any marketplace in mainland Fiji (in Yasawas it is more expensive). Please do not wear sunglasses or hats in the village. Women should be modestly dressed while inside the village. Outside the village, you can do whatever you like.
You have booked a homestay in a native, vibrant Fijian village, not in a tourist resort. Once you enter our village, you become part of the village. This also means: in case you experience some inconvenience during your stay, please do not hold onto it but simply TALK to people. Village ladies are 'always ears' in their hospitality and generosity. Just approach any, voice your concerns and it is likely that your request will be taken care of immediately. In the Fijian culture, such an exchange will probably make us even happier, in spite of it being interpretable in Western cultures as an unpleasant, face to face complaint. In short, this makes both your holiday more enjoyable and improves mutual understanding in this intercultural project. Leaving positive reviews online after your stay is always welcome, but complaining online after your stay does not help you enjoy your holiday, nor did it help us make YOUR stay enjoyable.
Activities
Sawa-i-Lau Cave Tour – $60 FJD per person. Just 7 to 10 minutes by boat from the village.
Our village is known for fine traditional Fijian dances, please inquire upon arrival if interested to witness them. Evening kava sessions are a must in Fiji, feel free to join us at any time. You are more than welcome to visit our small village school and the church. Hiking and snorkelling are for free and are excellent all-around Nacula island. Kayaks and surfboards are usually available in the village as well. SCUBA diving is not available in the village, but at least 2 resorts in the same island offer it. A spectacular Sawa-i-Lau sea cave is a popular tourist destination and is close to Navotua. the cave is very close to our village.
There is internet coverage (Vodafone), but it's quite random. There is electricity only for special occasions in the evening. There is a solar panel in the community hall with an inverter and our guests can charge their devices for free there.
NOTE: Yasawa Village Homestays reserve the right to allocate guests to Navotua, Malakati or Naisisili village, as per availability. All facilities, rates and the general "look and feel" are identical in all villages, and all villages are located on the same island. 
Book your stay at Navotua – Malakati – Naisisili Village Backpacker Homestays here:
Facilities
Safe
Scuba Diving
Shaded Hammocks
We are sorry, there are no reviews yet for this accommodation.
Yasawa Islands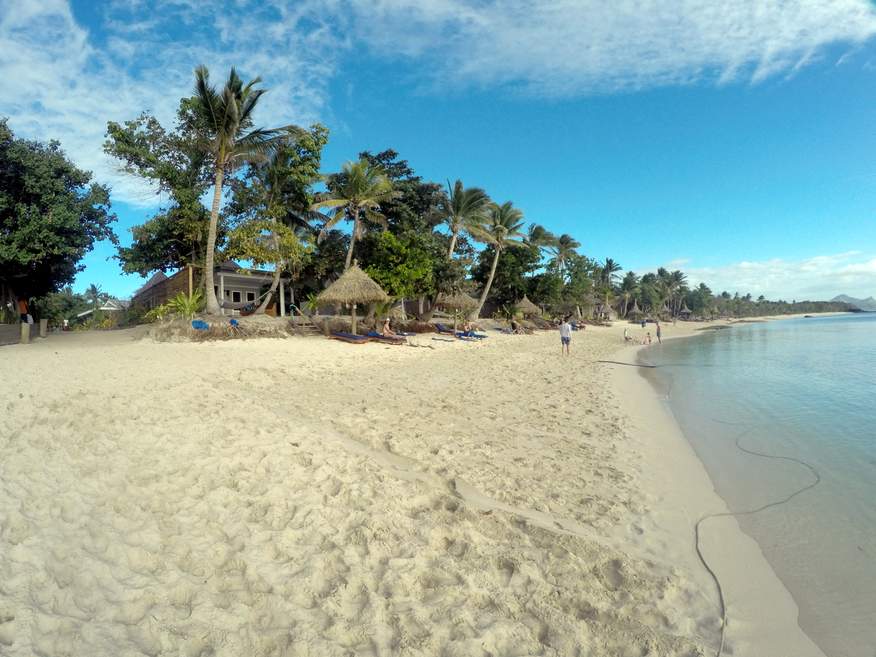 The remote Yasawa Island Group make up Fiji's western border.  The group's statuesque islands are mostly high, grass-covered islands, with brilliant porcelain beaches and water painted in a palette of blues. Rugged, remote and more dramatic than the sugardrop islands of the Mamanucas, the mighty Yasawas were once off-limits to all but those determined to play
Culture and history info
History The British navigator William Bligh (after which Bligh Water was aptly named) was the first European to sight the Yasawas in 1789, following the infamous mutiny on the HMS Bounty. Captain Barber in the HMS Arthur visited the islands in 1794, but they were not charted until 1840 by a United States expedition commanded by Charles Wilkes. The Yasawas weren't always tourism orientated. Visiting the islands once was limited to cruise ships, with passengers unable to actually set foot on the islands until the 1950s, and land-based tourism ventures restricted until 1987.  However, thanks to the Government providing an ecotourism startup fund and the arrival of the Yasawa Flyer, the Yasawas are now dotted with small resorts and backpackers.
---
Read more
Booking
Book your stay at Hautava BeachFront Backpackers here:
The Facts
Payments...
We only take a small deposit now and you pay the balance due on arrival at Navotua - Malakati - Naisisili Village Homestays. Please take cash only.
No Booking Fees or Credit Card Fees on your deposit with us.
Payment is secure, look for the green padlock in your browser bar.
No "Fiji time" here, we're on the computer all day every day making sure bookings are processed really fast
As soon as you book we'll send you an "Order Pending" email to say we have received it. No money is taken yet. We then book your trip (as fast as humanly possible), take the deposit, then send you a second "Order Confirmed" email with all the important details of your trip, pick up times, booking reference number etc. You'll need to print the second email out and bring it with you or be able to show it on a mobile device.
Your credit card is stored in our booking systems secure vault and will automatically be deleted 30 days after your tour.
We're based right here in Nadi, Fiji
Cancellation...
If you cancel for any reason within 3 days of departure we are unable to give you a refund PLUS you will have to pay the full balance owing on the order. We will automatically deduct the balance from your credit card.
If you cancel before 4 days there will be a cancellation fee of 20% of your deposit.
We highly recommend you have travel insurance to cover any possible cancellations.