Perfectly positioned along a stretch of golden sand beach and crystal clear lagoons in the heart of Fiji's Coral Coast, Warwick Fiji is the perfect place to escape the daily woes of life and immerse in tropical bliss with the world's friendliest people.
Warwick Fiji is far enough from the daily hustle and bustle and close enough to still keep in touch.
What memories will guests take home from their visit? Perhaps it will be the memory of the most extraordinary tennis game of their life or tying the knot with their soul mate against a spectacular setting sun. Maybe it will be the time spent with family enjoying the many marvels of Warwick Fiji, or perhaps our guest will have hosted a business meeting so epic that it earns rave reviews.
Deeply entwined with the beauty and hospitality of the Coral Coast, Warwick Fiji welcomes guests to come to make a little history of their own. Stretching over 28 lushly landscaped acres, our elegantly crafted luxury resort provides a rich palette of experiences to suit every occasion-whether business, romance, relaxation or carefree family fun. From dawn's first blush to the tangerine streaks of our Coral Coast sunsets, each day at Warwick is awash in endless possibilities.
Resort Map
Guests of Warwick Fiji will enjoy accommodations that are nothing short of extraordinary. Luxury permeates the 247 rooms and suites, with sweeping ocean and garden views along the Coral Coast, in addition to expected hotel comforts such as air-conditioning, flat-screen satellite television, tea and coffee makers, telephones, in-room safes, minibars, and refrigerators. For those seeking a distinct level of comfort, Warwick Fiji provides extra privileges in the form of exclusive access to the Executive Warwick Lounge, with Complimentary afternoon tea and Pre-dinner beverage.
Dining
Meal Deal – FJ$ 103 per adult per day
Kids Eat FREE for children 12 years and under* Conditions applies
Warwick Fiji has a variety of dining experiences available to suit any palate.
With 5 Restaurants and 6 Bars, this Resort makes for a one-stop holiday destination.
Warwick Fiji is home to many fantastic restaurants and cafes. The Resort offers a variety of dining experiences with a selection of a la carte and buffet options for breakfast lunch and dinner.
Other than the Bula Brasserie, all our Restaurants require reservations which can be done at the Restaurant Booking Desk outside Pappagallo Restaurant from 7 am – 3 pm daily. Bookings after 3 pm can be done directly with the respective restaurants.
Twenty-four-hour in-room dining is also available.
Bula Brasserie and Bar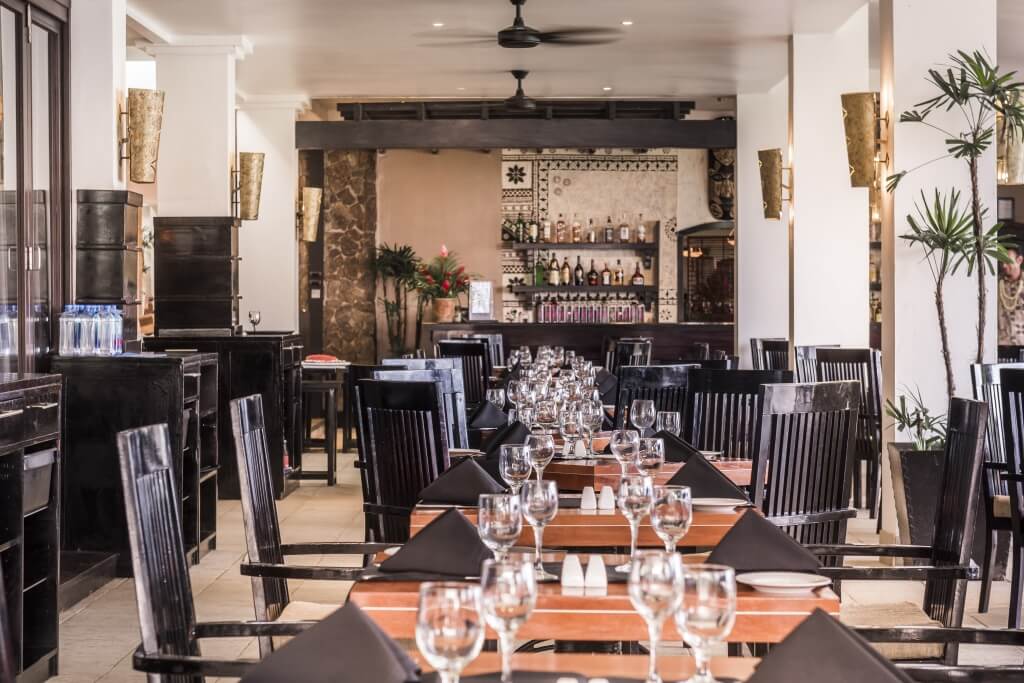 Pappagallo Italian Restaurant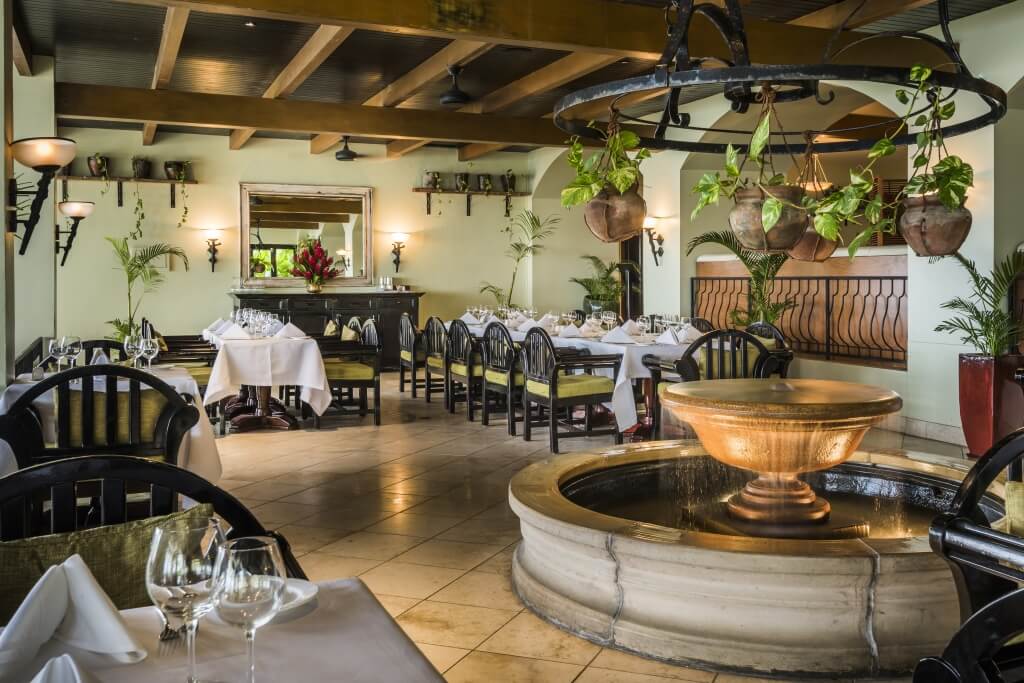 Sazanami Japanese restaurant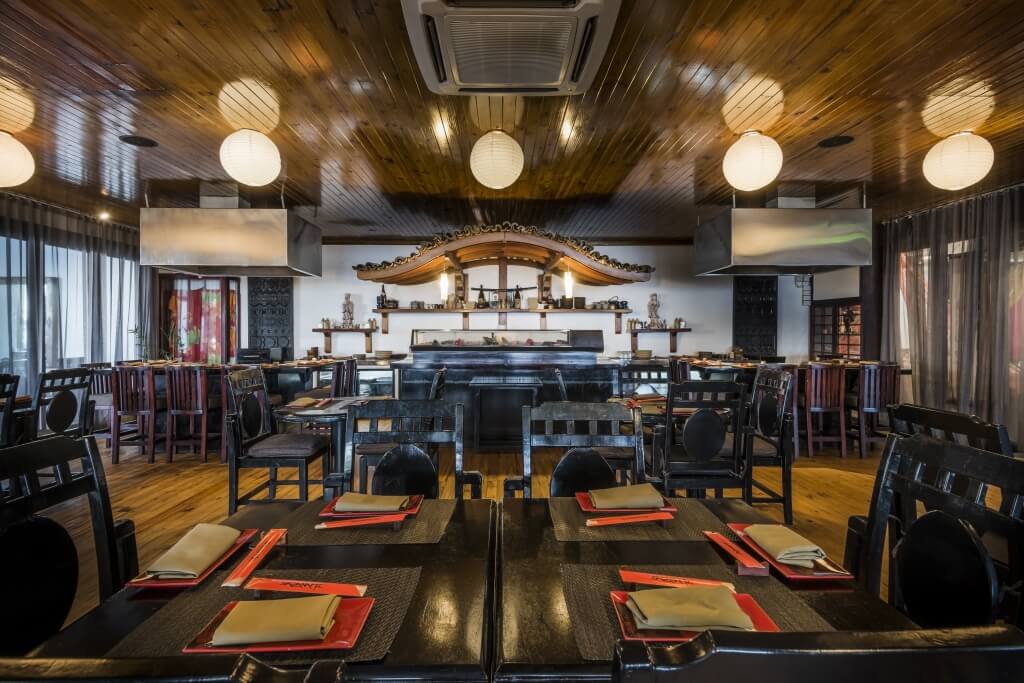 Wicked Walu- Seafood Restaurant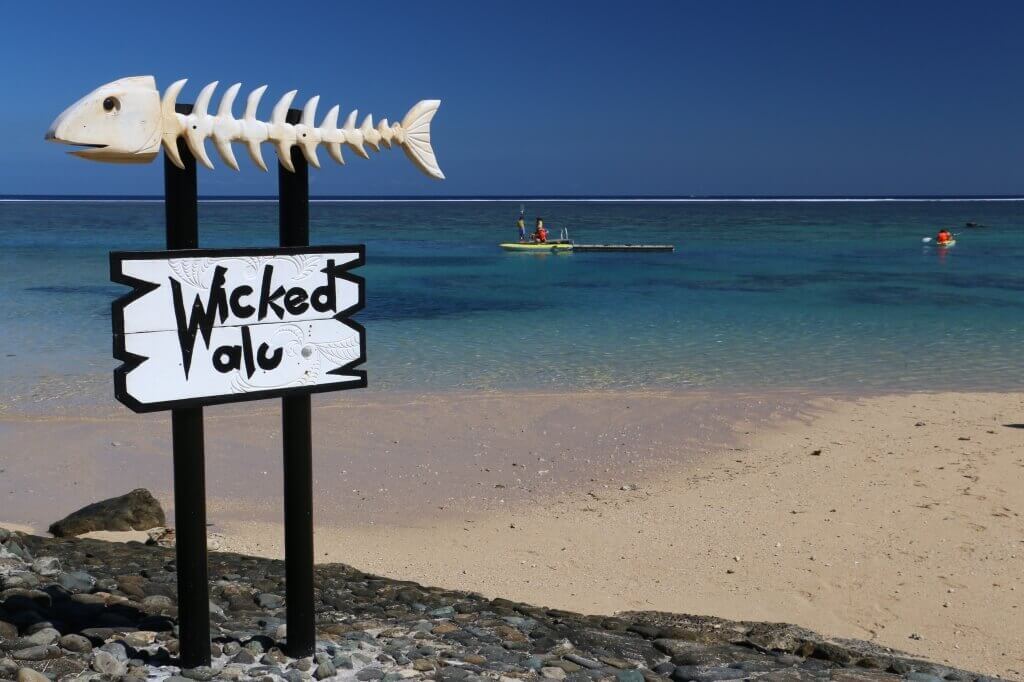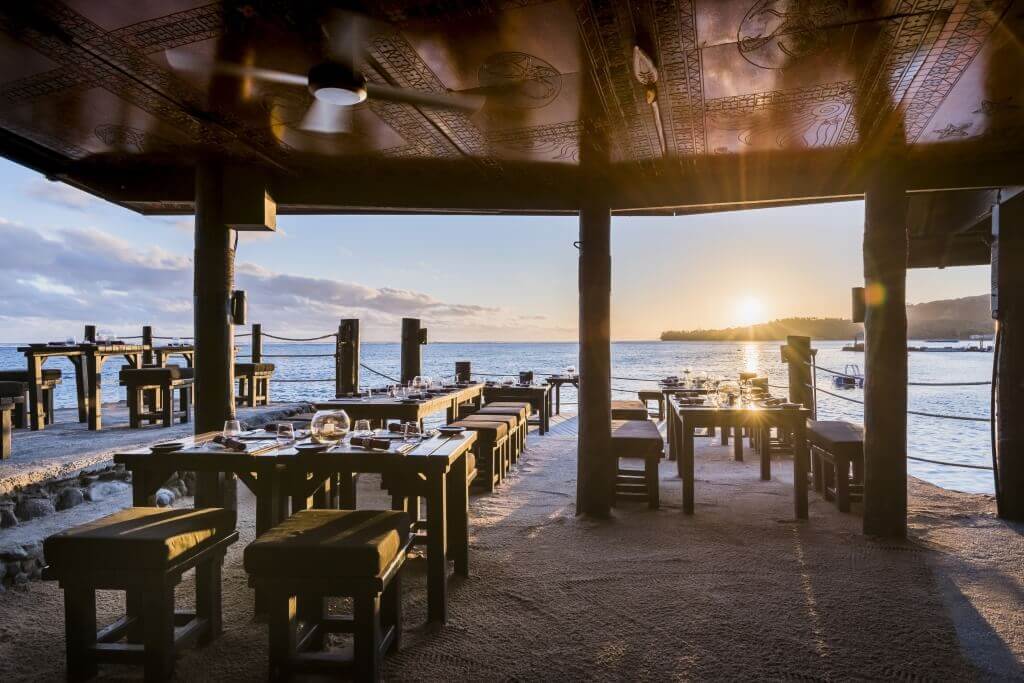 Note: The Menu is subject to change
Kids Corner
Lase Kids Club

Kids are invited to spend their holiday with us for fun and educational games in the Lase Kids Club. Open from 9 am until 9 pm daily, with a comprehensive daily kids program, we will keep kids entertained with a mix of educational and fun activities that will be sure to have your kids raving and wanting to return on their next holiday.
The Lase Kids Club caters to children from the ages of 3yrs to 8yrs, whilst our beach office takes care of the older kids from 9yrs to 12yrs leaving parents free to enjoy themselves.
Kids Program
Play 
FREE supervised kids club for children 3-12 years. Available daily from 9 am to 9 pm.
FREE activities include kayaking, snorkeling, stand-up paddle boards, beach and pool volleyball, Fijian cultural activities, tennis, table tennis, squash, archery, bicycle hire and basketball. Note that some activities require adult supervision.
FREE access to the children pool
Dine
Children 12yrs and under eat all meals FREE:
Buffet breakfast at the Bula Brasserie Restaurant
Lunch off the Kids buffet at Bula Brasserie Restaurant from 11am-2.30pm
Dinner off the Kids menu or Buffet buffet at Bula Brasserie from 5.30pm-7.30pm
Children 12 years and under dining with parents at the Pappagallo or Sazanami restaurant will receive a 50% discount on the cost of their meal from the Adults menu or applicable discounted prices from the available kids' menu.
Coral Coast Day Tours
Want to experience the traditions, culture, nature, and people of the Coral Coast? It is recommended that guests try one of our Top 6  recommended day trips. For more information or to book CLICK on the individual tour name:
1. Sigatoka River Safari
2. Off-Road Cave Safari
3. Robinson Crusoe Island Day Tour
4. Rivers Fiji
5. Jewel Of Fiji
6. Electric Rail-Riders Tour
Book your Warwick Fiji Accommodations here now…
Facilities
24 Hour Security
Air Conditioning
Cafe
Coffee Maker
Cook Top
Deck/Balcony
DVD player
Electric Kettle
Fridge
Kayaking
Kitchen
Kitchenware
Microwave
Safe
Scuba Diving
Snorkeling
Swimming Pool
Telephone
Television
Toaster
Trekking
Tropical Gardens
TV SKY PACIFIC
Volleyball Court
Waterfront Bar
WiFi Internet Access
We are sorry, there are no reviews yet for this accommodation.
Coral Coast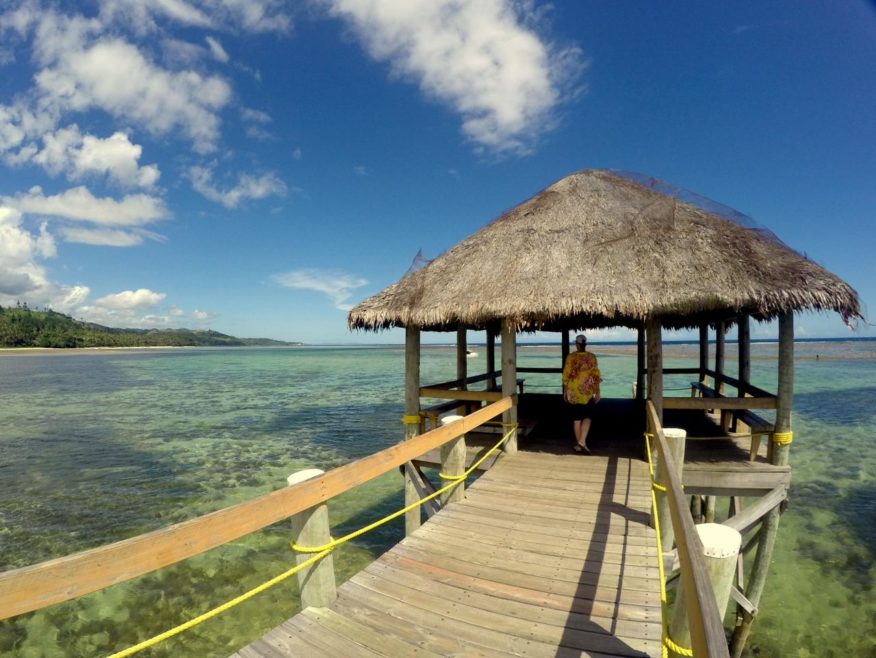 The Coral Coast is an 80km (50 mile) stretch of beaches and bays along the Queens Road between Nadi and Suva. A wide bank of coral offshore gives this stretch of coast between Korotogo and Pacific Harbour its name. Flanked by waves of richly vegetated hills and a fringing reef that drops off dramatically into the
Sports & nature
Sigatoka Valley
Whether by tour bus or on your own adventure, head inland along the west bank of the Sigatoka river. Either side of the road are the patchwork of flat green fields growing the crops that give the Valley its nickname: "Fiji's Salad Bowl." Along the way are the villages of Lawai and Nakbuta, who welcome guests and offer handicrafts and pottery for sale. The drive past Nakbuta is not for those who suffer from vertigo, as the road climbs steeply along a narrow ridge, but the reward is a panoramic view across the winding Sigatoka Valley with its quilt-like fields to the right. The road then winds to the valley floor and Sigatoka Agricultural Research Station, a popular spot for picnic lunches. From here, the roads get rough and are strictly for the four wheel drives, but even for those who turn back, this trip is a once in a lifetime glimpse at the real Fiji. Sigatoka Sand Dunes National Park. The Sigatoka Sand Dunes National Park is located at the mouth of the Sigatoka River. The extensive dune system extends for several miles along the coast with dunes reaching heights of 60m (200ft). Fiji's first National Park, this is also an archaeological site where pottery some 3000 years old has been uncovered by the shifting sands, alongside stone tools and human remains. The curious should drop into the Visitor's centre to learn more about this unique natural location.
Kula Eco Park
Just off the Queen's Road opposite the Outrigger on the Lagoon Fiji, Kula Eco Park is Fiji's only wildlife park. The park is a cool green forest nestled in a small valley. The trees have names like Dawa, Ivi, Vutu and Vesi and tower above the valley floor filtering the sun. Visitors will hear the call of barking pigeons, the shrill of honey eaters and the constant, pulsing concert of unseen forest dwellers. This is the wild side of Fiji So far, the Park's efforts at sustainable ecotourism have been successful. They have recently been involved in the captive breeding of Fiji's peregrine falcon and crested iguana. In addition, the education program for school children has seen the "graduation" of over a thousand members. Established in the late 80s and purchased by Kula Eco Park Management 1997, today the park is the an environmental showcase of the South Pacific.
Culture and history info
History Korolevu, on the Coral Coast, is the birthplace of Fiji tourism. A brilliant stretch of white beach dotted by copious lush vegetation, popular back-packers, hotels and resorts still line its beautiful shore. The place that started it all is the Korolevu Beach Hotel. Built in the 1950s by pioneer hotelier Bill Clarke on 76 acres of prime real estate, it was an immediate hit with the colonial expatriates of Australia, New Zealand and the United Kingdom. Korolevu is believed to be the first place where individual bungalow-style units were called "bures." Clarke was also the pioneer of cultural shows to educate guests about the local lifestyle. Long since closed, the Beach hotel's legacy is a still-thriving tourist industry as guests continue to arrive, drawn by Fiji's natural beauty and Fijian's natural hospitality.
---
Read more
Booking
Book your Warwick Fiji Accommodations here now…
The Facts
Payment details...
We only take a small deposit now and you pay the balance will be paid to Warwick Fiji upon the day of check-in.
No Booking Fees or Credit Card Fees on your order with us
If you pay the balance in cash you will avoid the extra credit card charges
Payment is secure
No "Fiji time" here, we're on the computer all day every day making sure bookings are processed really fast
As soon as you book we'll send you an "Order Pending" email to say we have received this. We then book your trip (as fast as humanly possible) then send you a second "Order Confirmed" email with all the important details of your trip, pick up times, booking reference number etc.  You'll need to print the second email out and bring it with you.
We're based right here in Nadi, Fiji.
Check in / Check Out Policy
Check in is from 2.00pm on the day of arrival and check out by 11.00am on the day of departure.
In order to guarantee immediate occupancy of a room, i.e. arrivals prior to the normal check-in time, we strongly recommend that you pre-register the reservation which is equivalent to one nights' accommodation charge.
Late check-outs are subject to availability between 11 am and 6 pm on the day of departure. Further extensions after 6 pm will require the occupant to pay a full night's rate based on the best available nightly rate. This is payable direct to the Resort at the applicable rate.
Cancellation/No-Shows...
If cancellation is made 9 days prior to arrival no cancellation fees apply.
If cancellation is made within 9 days from arrival – 100% of total estimated accommodation charges as booked will be charged.
NO SHOWS will be charged 100% of total estimated accommodation charges as booked.
In cases of Early Checkouts, all unused room nights will be charged as early departure fee and if pre-paid then deposits are non-refundable.
Force Majeure
The Resort will not be held liable or responsible for failure to execute arrangements specified herein directly occasioned or by or through or in consequence of war, change of status of Fiji Government, strikes, riots, and acts of God or conditions beyond the control of the Resort. The Resort reserves the right at any time by giving notice in writing to cancel this arrangement should the resort fail to fulfil the above terms and conditions.