Blue Lagoon Beach Resort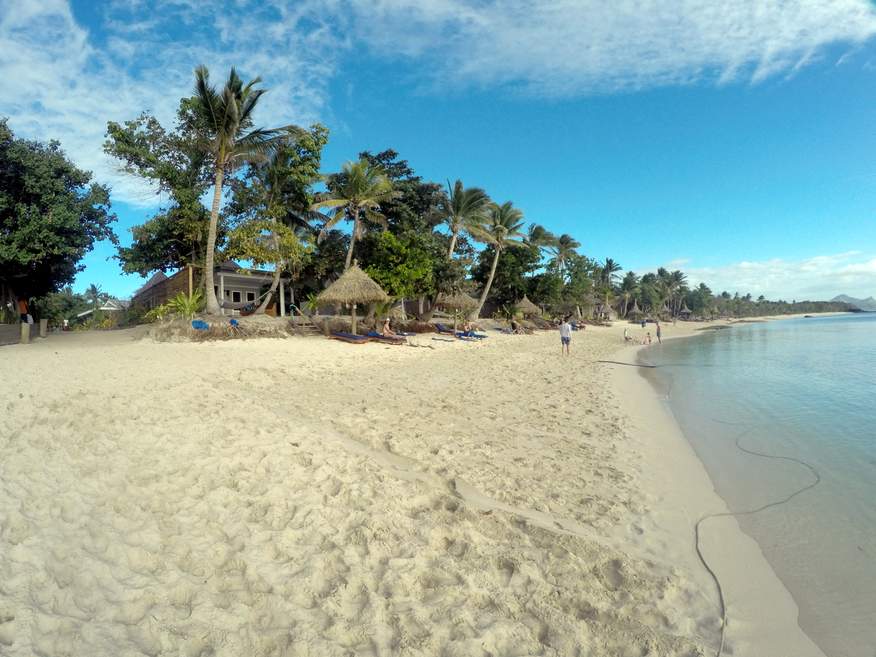 Located in the north of the Yasawa Islands
Near the most famous stretch of beach at the Blue Lagoon. The resort is right on the beach and offers great accommodation choices from dorms to luxury beachfront villas.
There is fantastic all tide swimming and snorkelling – you won't believe how warm the water is! The resort works closely with the people of Nacula village who share their way of life with you. The sand floor restaurant and bar are a feature of the resort with a full range of drinks with daily cocktail specials. One of the best parts about your stay at Blue Lagoon Resort is the food – some meals can have up to 5 coursed and all high quality and delicious. At breakfast you can choose from homemade omelettes to freshly baked muffins and everything in-between.

Explore the Sawa-i-Lau Caves
The magical Sawa-i-Lau Caves are one of the 'must-do' activities when visiting Blue Lagoon. The ancient limestone formations, carved by constant wave action are hidden within a fantastic little island. Located about 20mins by boat from the resort. Don't worry if you can't swim, you'll be guided by friendly Fijians to explore the secrets within. The first of the caverns is simply magnificent. Light filters through a hole in the ceiling, allowing you to look around in awe. Those up for more excitement can choose to enter a secondary, more secretive, cavern via an underwater tunnel.
According to legend, a young Chief once hid with his betrothed in the cave after her family threatened to marry her off to a rival Chief. Everyday he would swim into this secret haven with food for the girl until they eventually both escaped to an island together, where they lived happily forever. The sacred Sawa-i-Lau Caves are also known as the resting place of the ten-headed ancient Fijian god, Ulutini.
About the resort…
Island: Blue Lagoon Resort is on Nacula Island which is a big island
Beach:  Good fine golden sand, and lots of deckchairs to relax in – excellent
Swimming Pool:  A large pool right next to the restaurant and bar
Snorkeling: All tides and great
Meals: Outstanding meals with plenty of choice
Activities:

Snorkelling
Island hiking
Kayaking
Cultural Activities
Limestone Cave Trips
Snorkelling Trips
Padi Dive Centre
Massage hut
Daily Yoga

Water: Drinkable from the tap, declination.
Power: 24 Hours
How to get to Blue Lagoon Beach Resort…
If you're already on another island then it's best to continue on using the Yasawa Flyer as it's easier. An island hopping Bula Pass is great for this. From Nadi there is a free airport pickup at 6.50am or free pick up from any resort or hotel to get you down the Port Denarau for departure. Check in is at 8am for 8.30am departure, the ferry only goes once a day. It's a 5 hour boat ride.
If you're having trouble getting to Blue Lagoon Beach Resort the same day you arrive in Fiji, or you just can't be bothered sitting on the ferry for 5 hours, then catching a seaplane is your only option. Flights leave at a time to suit you. The flight is awesome, with stunning scenery along the way. The seaplane will land in front of Blue Lagoon Resort.