A "Bula Combo Pass" pays for all your transport, accommodation & all meals while you island hop around Fiji
Make life simple for yourself with a Bula Combo Pass with everything pre-paid beforehand, its saves carrying around too much cash. Only certain resorts in the Mamanuca & Yasawa Islands are part of the combo, if you want more freedom then buy just a Bula Pass which pays for your transport only.
When buying a Combo Pass, there is no need to pre-book your accommodation in advance. However, resorts can get busy, if you want to secure your resort then pre-book.
Stop at any of these popular resorts below (they include all your meals)…
The accommodation rating is backpacker in dorm and bures. If you need a hairdryer or aircon, these are not for you. Resorts are typically basic but on a beautiful beach. There is no hot water, bring your own towel, soap and other necessities. Most of these resorts are run by Fijians who love hosting and sharing their lives with guests.
South Sea Island (Dorm)
Wayalailai Ecohaven (Dorm & Bure)
Naqalia Lodge (12 bed Dorm & Bure)
White Sandy Beach (Dorm & Bure)
Long Beach Resort (Dorm & Garden Bure)
Safe Landing Resort (Dorm & Bure)
Nabua Lodge (Dorm & Bure)
Gold Coast Resort (Dorm & Bure)
Free coach pick-ups:
You will get a free pick-up on the day of departure from your Nadi / Denarau hotel / Nadi airport to Denarau Marina. All you need to do is advise us on where you are staying. Denarau Marina, is approximately 20 minutes from Nadi Airport. There are no free pickups from Coral Coast. You will also get a free transfer back to your Nadi / Denarau hotel / Nadi Airport, but only if you are coming in on the last boat at 6pm. If you miss your free coach pickup, then you will have to make your own way to the Denarau Marina before the ferry leaves at 8.30am.
Yasawa Flyer Timetable for your Bula Combo Pass
| NORTHBOUND | RESORTS | SOUTHBOUND |
| --- | --- | --- |
| 8:30am | Denarau Marina | 5:45pm |
| 9:00am | South Sea Island | 5:15pm |
| 9:05am | Bounty Island | 5:10pm |
| 9:15am | Beachcomber Island & Treasure Island | 5:00pm |
| 9:45am | Vomo Island Resort | 4:30pm |
| 10:30am | Barefoot Kuata Island, Wayalailai & Naqalia | 3:45pm |
| 11:00am | Octopus Resort/Viwa | 3:15pm |
| 11:30am | Barefoot Manta Island, Mantaray & Paradise Cove | 2:45pm |
| 11:45am | Botaira Island Resort | 2:30pm |
| 11:55am | Korovou & White Sandy Beach | 2:20pm |
| 12:30pm | Bay of Plenty, Navutu Stars & Long Beach | 1:45pm |
| 1:00pm | Oarsmans, Blue Lagoon, Nabua & Safe Landing | 1:00pm |
| 1:30pm | Nanuya Island, Gold Coast, Sunrise, Coralview & Coconut Beach Resort | 1:30pm |

Note: these are approximate arrival and departure times. They may vary on the day according to sea conditions and loading and can often run late. The ferries can arrive back quite late, so please be extremely careful if you are catching a flight on the same night.
Yasawa Flyer Transfer Route…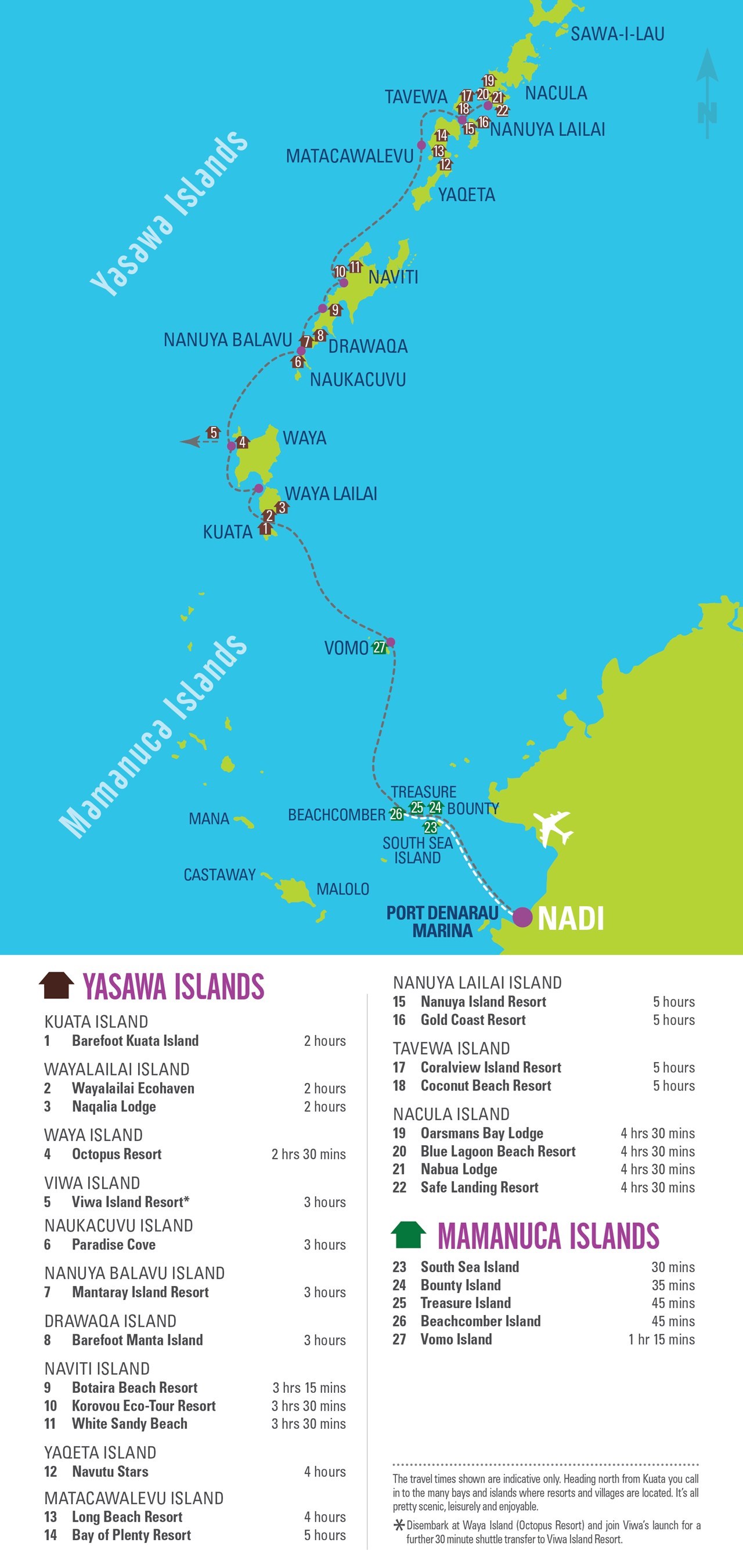 About your Bula Combo Pass:
Pass is activated on the first day of travel and valid for the period shown on the pass.
Bookings are subject to availability and some resorts are very popular so if you want to be sure you can stay at certain resorts, it's best to plan a bit further ahead! We suggest you book at least your first two nights before departing Denarau Marina. All accommodation bookings can be made directly on this site.
There is a minimum 2 night stay at each resort.
Some resorts charge a water taxi fare to collect you from the Yasawa Flyer.
You can't come back to Denarau then go out again, your pass is invalid as soon as you get to Denarau.
Travel outside the dates of your pass will be charged the normal fare.
If your name is not on the pass it will be confiscated and the balance lost.
Rates valid for travel from 1 April 2019 to 31 March 2020 including all taxes
Departs daily to the

Yasawas at 8.45am
Mamanucas at 9am, 12.15pm and 3.15pm
Check in half an hour before departure
Discounts on these passes are only available exclusively on this website and not available anywhere else.
Book your 9 Days – 8 Nights – Bula Combo Pass here now…
Facilities
Manta Ray Swims
Scuba Diving
Shaded Hammocks
Snorkeling
Snorkelling with the Sharks
Swimming Pool
Trekking
Waterfront Bar
WiFi Internet Access
We are sorry, there are no reviews yet for this accommodation.
Yasawa Islands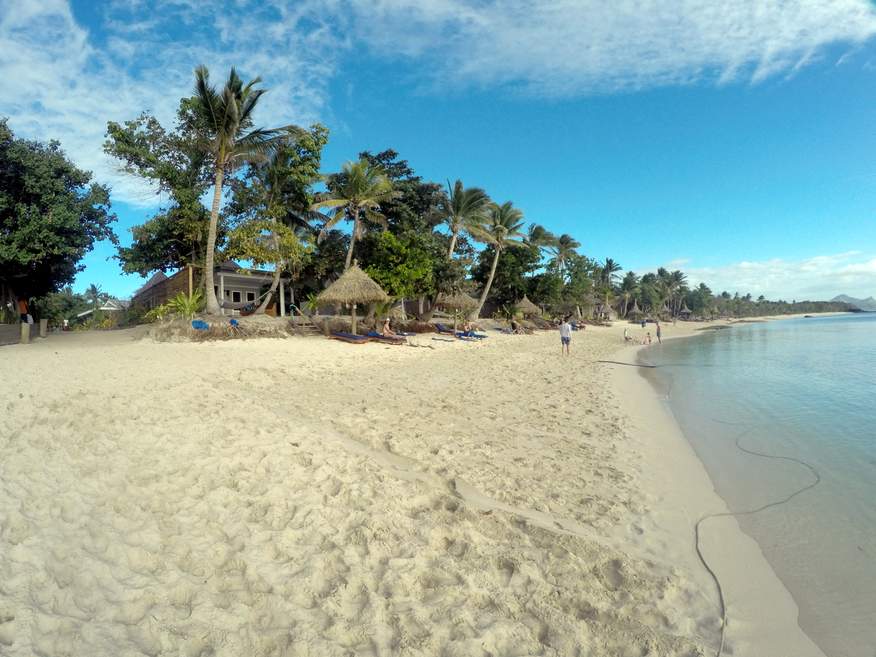 The remote Yasawa Island Group make up Fiji's western border.  The group's statuesque islands are mostly high, grass-covered islands, with brilliant porcelain beaches and water painted in a palette of blues. Rugged, remote and more dramatic than the sugardrop islands of the Mamanucas, the mighty Yasawas were once off-limits to all but those determined to play
Culture and history info
History The British navigator William Bligh (after which Bligh Water was aptly named) was the first European to sight the Yasawas in 1789, following the infamous mutiny on the HMS Bounty. Captain Barber in the HMS Arthur visited the islands in 1794, but they were not charted until 1840 by a United States expedition commanded by Charles Wilkes. The Yasawas weren't always tourism orientated. Visiting the islands once was limited to cruise ships, with passengers unable to actually set foot on the islands until the 1950s, and land-based tourism ventures restricted until 1987.  However, thanks to the Government providing an ecotourism startup fund and the arrival of the Yasawa Flyer, the Yasawas are now dotted with small resorts and backpackers.
---
Read more
Booking
Payment and ordering...
We only take a small deposit now. Upon confirmation of your booking you will be required to pay the balance due on a link, that will be provided to you on your confirmation voucher. The link will take you to a secure page on the Awesome Adventures website.
No Booking Fees or Credit Card Fees on your deposit with us
If you pay the balance in cash you will avoid the extra 3% credit card charges.
Payment is secure, look for the green padlock in your browser bar
No "Fiji time" here, we're on the computer all day everyday making sure bookings are processed really fast
As soon as you book we'll send you an "Order Pending" email to say we have received this. No money is taken yet. We then book your trip (as fast as humanly possible) then send you a second "Order Confirmed" email with all the important details of your trip, pick up times, booking reference number etc. You'll need to print the second email out and bring it with you or be able to show it on a mobile device.
Your credit card is stored in our booking systems secure vault and will automatically be deleted 30 days after your trip.
Cancellation...
Cancellation fees apply only to any pre-booked acommodation:

less than 14 days notice - you will be charged 100% of the total package price.
less than 21 days notice - you will be charged 50% of the total package price.
less than 5 weeks notice - you will be charged 25% of the total package price.

Change of booking within 48 hours of travel, including after travel has commenced will incur a FJ$100 amendment fee

More than 48 hours notice FJ$25
More than 5 week's notice prior to commencement of travel No Charge.

Please note that amendment of travel No Charge. Please note that the amendment fees will be additional to any amendment/cancellation fees imposed by the resort(s) affected.
The Bula Combo Pass can be extended anytime during travel but prior to expiryby paying the price difference up to the longer Pass of your choice.This can be done at the Travel Desk onboard the 'Yasawa Flyer', please note an amendment fee of FJ$25 applies.
We highly recommend you have travel insurance to cover any possible cancellations.
If the Flyer is cancelled due to bad weather they will move your transfer to another day. If, on that day you couldn't make it, we will refund 90% of your deposit.
We're based right here in Nadi, Fiji
Book your 9 Days - 8 Nights - Bula Combo Pass here now...