Yasawa Flyer island transfers to hotels and resorts in the Mamanuca & Yasawa Islands in Fiji.

Travel with Awesome Adventures Fiji to the Yasawa Islands. Island transfers made easy with Yasawa Flyer. The Yasawa Flyer departs Denarau Marina at 8:30am every morning to island hop between the tiny Mamanuca Island resorts of South Sea Island, Beachcomber, Bounty and Treasure Islands, en-route to their majestic neighbours, the Yasawas. The journey up through the Yasawas is magical: the Flyer stops along the way in the most scenic channels and bays, picking-up and dropping-off tourists who are moving on to their next slice of paradise. The northern most stop is the famous Blue Lagoon, and from there, the Flyer heads back south, stopping off at all the islands again before arriving back at Denarau at 5:45pm.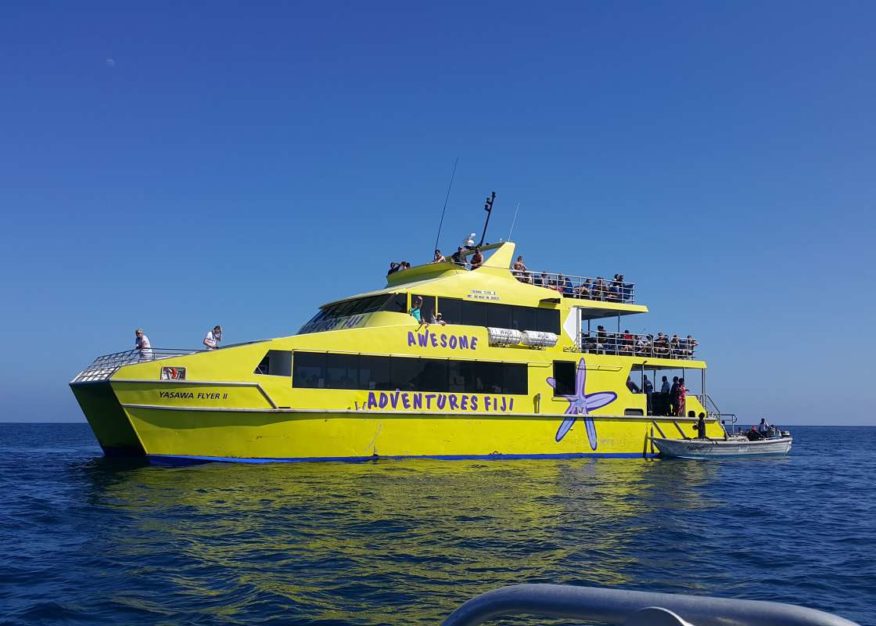 Yasawa Flyer Transfer Route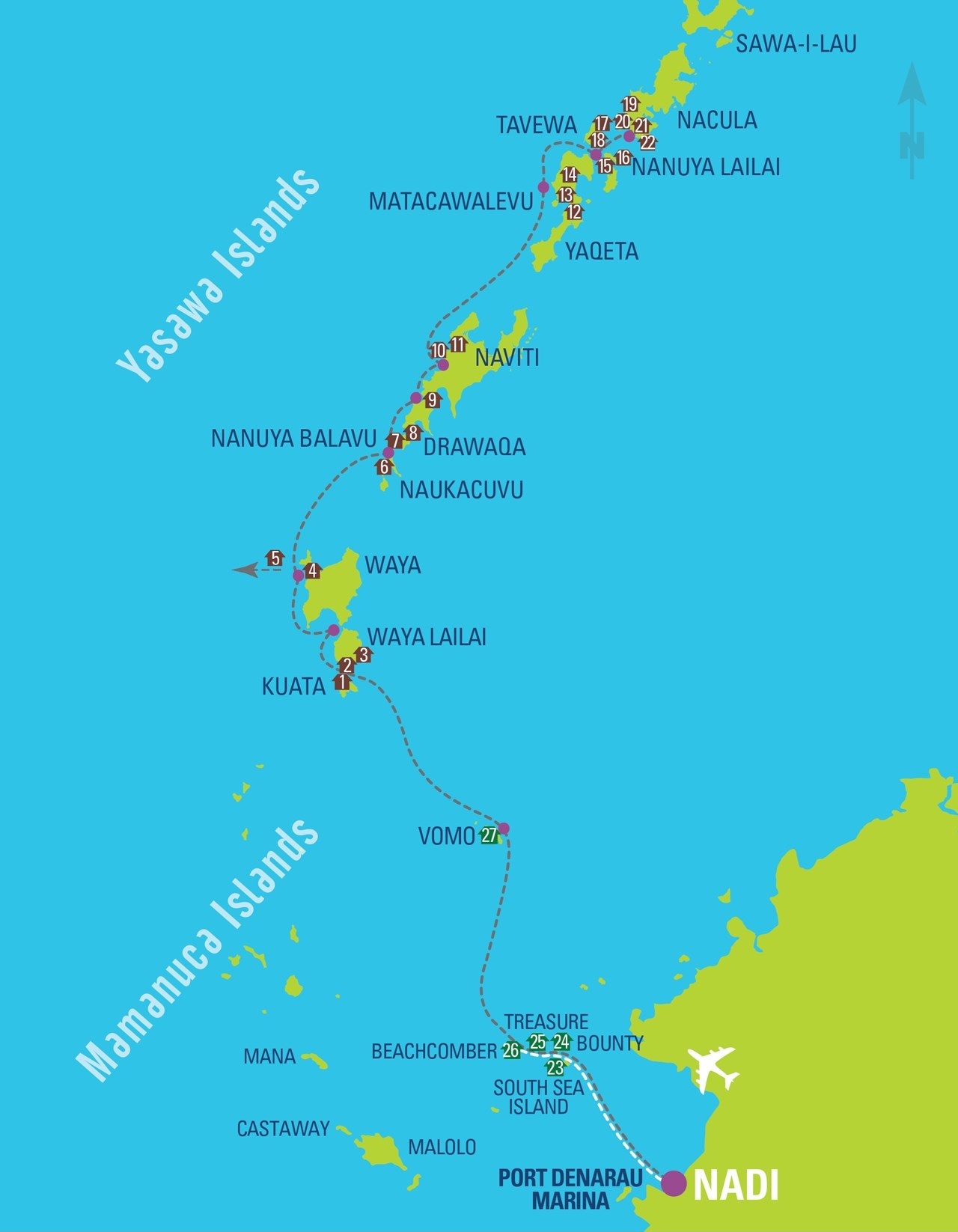 Yasawa Flyer Timetable
Note: these are approximate arrival and departure times. They may vary on the day according to sea conditions and loading. All passengers MUST confirm departure times at least 24 hours prior to departure.
NORTHBOUND

RESORTS

SOUTHBOUND

8:30am
Denarau Marina
5:45pm
9:00am
South Sea Island
5:15pm
9:05am
Bounty Island
5:10pm
9:15am
Beachcomber Island & Treasure Island
5:00pm
9:45am
Vomo Island Resort
4:30pm
10:30am
Barefoot Kuata Island, Wayalailai & Naqalia
3:45pm
11:00am
Octopus Resort/Viwa
3:15pm
11:30am
Barefoot Manta Island, Mantaray & Paradise Cove
2:45pm
11:45am
Botaira Island Resort
2:30pm
11:55am
Korovou &
White Sandy Beach
2:20pm
12:30pm
Bay of Plenty, Navutu Stars & Long Beach
1:45pm
1:00pm
Oarsmans, Blue Lagoon, Nabua & Safe Landing
1:00pm
1:30pm
Nanuya Island, Gold Coast, Sunrise, Coralview & Coconut Beach Resort
1:30pm
Free coach pick-ups:
Complimentary coach transfers: are provided by Awesome Adventures to/from most Nadi/Denarau, Wailoaloa area hostels & Nadi Airport to/from Port Denarau Marina. All you need to do is advise us on where you are staying. Denarau Marina, is approximately 20 minutes from Nadi Airport. There are no free pickups from Coral Coast. You will also get a free transfer back to your Nadi / Denarau hotel / Nadi Airport, but only if you are coming in on the last boat at 6pm. If you miss your free coach pickup, then you will have to make your own way to the Denarau Marina before the ferry leaves at 8.30am.
Bus Coach Transfer Timetable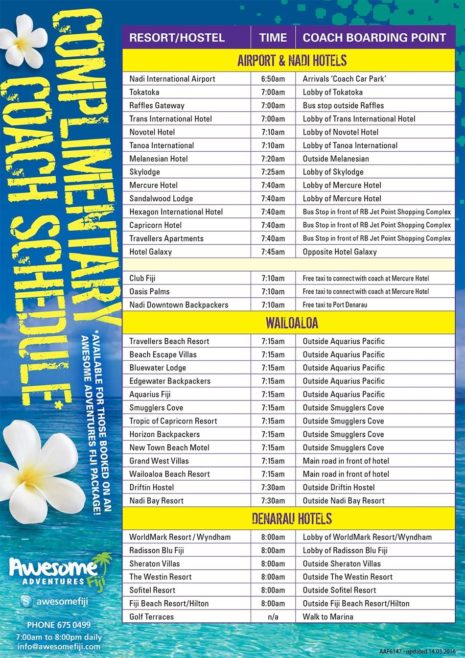 Note: these are approximate arrival and departure times. They may vary on the day according to sea conditions and loading and can often run late. The ferries can arrive back quite late, so please be extremely careful if you are catching a flight on the same night.
Book your Yasawa Flyer by Awesome Adventures Island transfers here now…
If price checking it often looks like we are more expensive but in fact are not. Our prices are shown in Fijian Dollars, but if you are looking at the Awesome Fiji website you will be seeing the prices in the currency of the country you are in. This is because they automatically default to this. So if you book the Captains Lounge from Denarau to Blue Lagoon the price is $225 FJD but in AUD$ it's $138, NZ$ it's $147 and USD$ it's $109.